Staging Your Home to Sell for the Most Money in the Shortest Time
Homebuyers expect homes to be staged. So it's become a standard for sellers to stage even if they'd rather not do it. If you saw the difference in a consumer's face when they walk into a house that is a perfect 10 and one that isn't, it would be an easy decision for you. You would know that staging is the only way to sell a house.
Staging isn't just about the nice furniture and neutral colors. There's a lot that goes into it. It's about the look, the feeling it gives buyers, and the smell of the home – yes, the smell.
Think about it from a buyer's perspective
Homebuyers have been saving for years for a downpayment; maybe working extra jobs along the way, sacrificing vacations, and lowering their wedding day expenses. They've been dreaming about it for just as long. Talking to each other about what owning a house will mean, the plans they have for the house itself, sharing the excitement with friends and family.
HGTV hasn't helped the argument that staging is too much trouble or too costly. They've added to the expectation of what the perfect house means. Pinterest is the online manifestation of their design ideas, paint colors, and garden plans. Homebuyers have spent hours looking at images and virtual tours online, learning the market in their neighborhoods of choice. And now they're actually out looking at homes in person. Can you feel the anticipation?
Staging is a continuation of what they've seen online. It keeps their imagination and dreams alive. It's the investor or contractor who will walk into a dingy, smelly house and say, "I'll take it." But you aren't going to get that response from most buyers. And the response of more buyers is the goal when you're selling your house. You want as many people as possible to swoon over it.
Buyers will overlook some repairs and upgrades if the house looks like Joanna Gaines decorated it. And it allows the focus to be moved from defects to the bigger picture. They're very visual.
Think about it this way: When you go on a date, especially a first date, you're going to do your make-up and hair, get dressed up, making an effort to look and smell your best. You're doing all this to make a memorable first impression with the thought that you'd like to have a second date. In the case of staging your house, you want to get the buyer to make an offer – an over-the-asking-price offer!
The next step
After all the work you've done: decluttering, packing, painting, repairing, and landscaping, staging is the next logical step. The goal is to neutralize the house so it appeals to as many home buyers as possible. We suggest depersonalizing the spaces by packing away family photos so visitors spend more time looking at the house than they do looking at your family story.
I worked with a client who had an extensive collection of nude paintings and sketches displayed in his townhouse. One of the important aspects of having a neutral backdrop for staging is to remove anything that would be controversial or surprising to viewers – any items that will take away from the purpose that they're there, which is to see the house.
Other personal effects to take down are taxidermy, religious art; even sports memorabilia can cause a kerfuffle. Setting the stage is specifically to enable the buyer to visualize themselves in the home. Anything that detracts from that diverts attention away from all the effort done to get them there.
Is it virtual?
What do you think? Is this virtual staging or is that real furniture?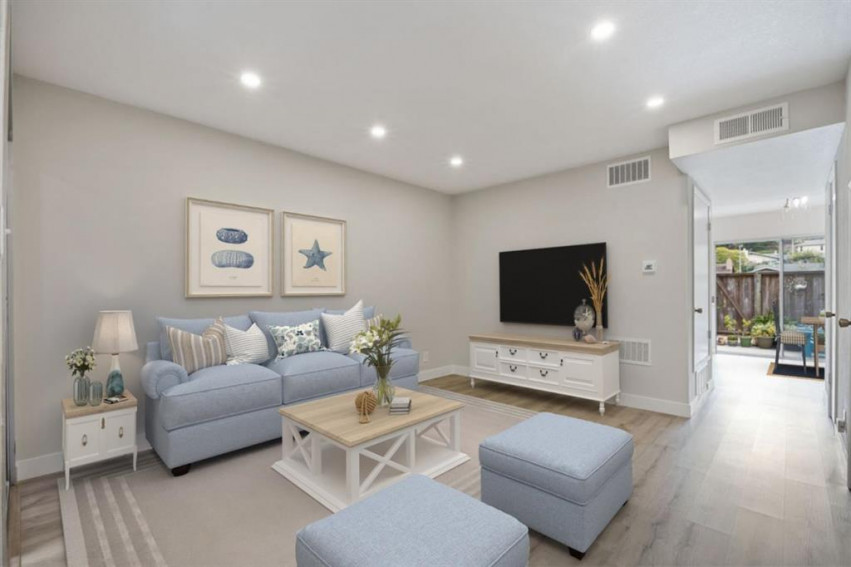 Degrees of staging
Some staging can be limited or unlimited in scope depending on how much time and money you have and whether or not you'll be occupying the home during the marketing.
The staging level chosen is determined by your selling situation. If you'll be occupying the home while it's being marketed, you may opt for the limited addition of a few pieces of art, and some ornamental items to accentuate your living spaces. If the property will be vacant – which is the easiest way to sell a house for you, the buyers, and your realtor – the use of staging can be maximized to its fullest.
Full staging
A full staging effort is made when the house will be unoccupied. When staged, the home is not set up for the way that we normally live so it could be uncomfortable existing, especially for an extended time period, in a staged home on a day-to-day basis. In fact, most stagers won't bring in their best furniture if someone is actually going to be using it. One spill and a nice couch is done. But full staging does make the most impact and the biggest impression on home buyers.
Partial or limited staging, smaller-scale staging can be effective if you're planning to be living in the house or will be away for some period of time during the marketing. Some of your furniture or display items can be exchanged for the stager's pieces. Your items may be rearranged or a desk and accompanying items could be brought in to stage a single room in order to highlight it as an office instead of a bedroom, as an example.
Virtual staging
We used virtual staging during the shelter in place as an alternative to physically bringing in a truck full of furniture and decor. There are some companies that do an amazing job. I'd take a bet with you to tell me which pictures were staged virtually. That's how good they can turn out. It's a whole lot less expensive and less of an effort but you do have to consider the downside of virtual staging.
It can be a let down for homebuyers when they've seen the gorgeous images online and have an expectation of how the house will look; and then they get there and are disappointed by the empty place. It's like scrolling through pictures on Match.com and then you get to the date and realize the pictures were taken 50 pounds and 50 years ago. Virtual staging should be done in limited circumstances keeping that in mind.
DIY staging
You can take this on by decluttering, packing, and minimizing what you have in the house. The key to this and all staging is to deep clean every corner of the house, top to bottom, including windows.
The house really has to be spotlessly clean. Hiring a professional cleaning service is a great way to get this accomplished. Having cleaners come in weekly during the showing and marketing period is also something to consider to take some of the burdens off of your daily life. It's that important.
Because the smell of the house is so important, I'm going to share some details. Do not use candles or artificial or plug-in sprays to mask any odors. I've been in plenty of houses that smell like wet dog and cinnamon spice. Keep the house smelling fresh by opening the windows daily, especially the day of a showing.
Smoking is a terrible idea. I worked with a couple – both of them smoked. They weren't happy when I told them not to smoke in the house. In fact, they decided smoking in the garage was a good idea. It isn't.
I also had a smoker for a client who knew the risks and decided she didn't care, which is totally fine, as long as you know the risks.
Keep in mind, all of the suggestions your realtor is giving you is to enable you to make more money. Not doing them is at your own risk – your risk of not making more money or, in fact, losing money on the sale of your property.
There are a lot of people with sensitive noses and allergies. Nothing will make a home buyer turn on their heels like a stinky house.
Do staged homes sell faster?
According to the Real Estate Staging Association's 2020 survey, 85% of the staged homes surveyed sold for 5-23% over list price. Staged homes sell faster, averaging just 23 days on the market. Their survey doesn't indicate the average days without staging.
How long a home takes to sell largely depends on the market. A staged and overpriced home in the middle of a buyer's market isn't going to be easy to sell. Defects are more obvious if there's nothing else to look at. Vacant homes are unwelcoming and cold because they don't have anything friendly about them.
The pros of staging
Modern look
Professional stagers are always on top of the current design trends and bring that knowledge to your house, giving it a modern, clean and updated feel. Using antiques or furniture from decades past will make your house appear older and will be less appealing to buyers.
Depersonalization
Staging allows home buyers to look at your house and not the things in it. The best thing to do is take the family pictures down. Visitors love looking at family pictures. I have to admit, even I do that. I love pictures and will take the time to pause and look. You want to keep buyers focused on the right things.
Neutral decor
Very personal, specific colors and design taste could be a turn off to buyers. A stager knows what pieces will suit the home and will choose furniture and decor that will attract the most buyers.
Perfect floor plan
The popularity of floor plans varies over the decades. A stager will use their magic to showcase the layout that works best for today's buyers. Good staging can even give buyers ideas of how to maximize unused spaces.
Spacious feel
Home stagers know how to edit and will limit what they use for a particular project. Closets, cabinets and pantries seem a lot larger when staged with a few items rather than stuffed with a collection of things accumulated over many years
Professional photos
In the market today, professional photos are a must. An expert photographer and a well-skilled stager make an excellent team encouraging buyers to come out from behind their computers and into your house.
Cons of home staging
Staged homes can be undistinguishable and start to look the same as the next one. It's important to have bold pops of color on pillows and decor to separate your house from the others on the market.
Slows the process
Staging can be really involved, especially if the house is big. That will have to be considered in your sale prep timeline.
Cost
The cost of staging depends on how big the house is, how upscale the staging is and how quickly you want it done. We actually include it as part of our services. I did talk to a seller recently whose agent said she wanted $10,000 to stage an 1100 square foot condo!
Selling Your Home?
Get your home's value - our custom reports include accurate and up to date information.
Get Home Value